Are you unsatisfied with your smile because of crooked teeth, spaces, crowded teeth? Or have you had braces when you were younger, and your teeth have shifted? Invisalign clear aligners are a wonderful way to straighten your teeth. Instead of the traditional metal braces and wires, Invisalign uses clear, nearly invisible aligners custom made to you. These Invisalign aligners are made of a rigid plastic material that gently put pressure on your teeth to guide them into the desired position. Each Invisalign aligner is worn for around one to two weeks and then exchanged for the next sequential Invisalign aligner.
Advantages of Invisalign Treatment
You are able to remove Invisalign aligners to eat, brush, and floss your teeth as normal.
Gentle teeth movements with Invisalign equals less discomfort
Improves oral health
By straightening your teeth with Invisalign you will have a new smile which can improve your self-confidence.
Gum and Overall Health Straightening your teeth with Invisalign has the obvious effect of improving the look of your smile. Having straight teeth has other benefits as well. Straight teeth are easier to floss and brush which improves the health of your gums, which is important not only to the health of your mouth, but your overall health. Gum disease is being linked to heart disease, stroke, diabetes, pancreatitis, and more.
Bite If your teeth are crooked and not aligned chances are your bite is not working as good as it should. By straightening your teeth with Invisalign the teeth are positioned correctly improving the function of your bite. This will also limit the amount of tooth wear and improve TMJ symptoms such as sore jaw joints and headaches.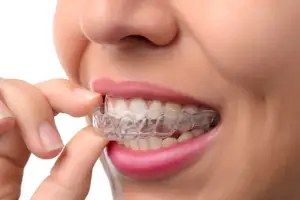 Are You Ready to See If Invisalign Is Right for You?
Call Us to Set Up Your Consultation. 480-451-5435