CEREC is the fabrication of all ceramic dental restorations in ONE office visit. With the CEREC at Dr. Miller's side, you can be in and out in a single visit with a permanent, all ceramic crown, onlay, or veneer!
Why are patients worldwide choosing the CEREC restorative technique for their dental needs?
Mainly because with the CEREC technology, this form of single-tooth restoration helps your teeth become stronger and less susceptible to sensitivity. The CEREC Restoration process saves you the hassle of having to go through multiple appointments, fewer injections, less drilling, and less time out of your schedule.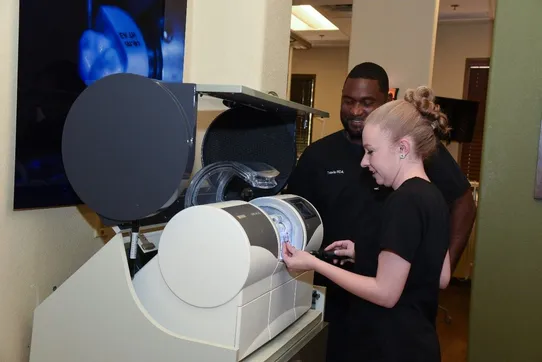 With CEREC, Dr. Miller can use effective, tooth colored ceramic materials to restore your teeth to their natural strength, beauty, and function. These elements closely match the composition of your natural tooth structure, meaning when you eat hot food and drink something cold, the restoration and tooth expand and contract at almost equal rates. Chemically bonded to your tooth, these materials help us save you as much healthy tooth tissue as possible while providing you with a dental restoration that strengthens your tooth.
BIOGENERIC COPY
Dr. Miller utilizes the minimally invasive approach known as Biogeneric Copy whenever possible. This conservative method involves mimicking the patient's existing crown, bridge, or other restoration by crafting an identical replacement with the CEREC® system. Biogeneric Copy can be highly beneficial for patients who need their tooth's structural integrity improved, since the approach is designed to create the exact same size and shape of the previous tooth or tooth replacement. This allows patients to maintain the same dental anatomy and not need to replace items like night guards or Invisalign® trays that have been specially molded to their teeth. Dr Miller will discuss this option with you during your appointment to determine if it is a viable technique for your CEREC® restorations.
Take advantage of this fantastic procedure today. For more information or to schedule an appointment/consultation, you can call us at 480-451-5435.
Let us achieve that smile that you've always wanted. It's the best thing that comes with every procedure.
---

Before

After
"My silver fillings have been bothering me for years! Every time I would laugh or smile big for pictures they would show. I am so glad I replaced them!" – Cari P.